While on vacation this past August in Lake Placid, I had a chance to meet up with one of my most respected and longtime colleagues, John Barge at the Adirondack Park Agency (APA) in Ray Brook. Lake Placid and the surrounding areas have long been a favorite escape for me dating back to my initial visit during the 1980 Winter Olympics when I was a graduate student across Lake Champlain at the University of Vermont in Burlington.  Being in the area always gives me a chance to catch up with John and compare notes, talk about our careers and  geospatial technology,  and of course, how much gas we have left in our tanks.
John is a special breed having been associated with the GIS program at the APA since its inception back to the early 1980s covering everything from command line ARC/INFO to the current development of web based products and services within the ArcGIS Online environment.  (He actually got started by digitizing APA roads with the first commercial installation of ERDAS GIS software.)  And  along the way, maintaining a reputation as one of the state's foremost cartographers as illustrated in his gallery of hardcopy maps available on the APA website.
My discussion with John this year included his recent work in publishing APA datasets via map services which can been reviewed and accessed on the Adirondack Park Agency web services gallery.  As referenced on the web page:
"APA web map services provide dynamic connections for mapping applications capable of using REST endpoints.  From the site, users can click on layer thumbnail images and then  copy the URL from the REST information page for use in local mapping applications. Feature services allow query and analysis of point, line, and polygon features while tile services provide fast map layer viewing but do not allow query or analysis of layer contents."
Each service is well documented with regard to the data sets included, spatial extent, and a brief description.
On the APA's shift from file-based data distribution efforts to publishing map services, John comments:
"Originally we created the Shared Adirondack GIS CD in 2001. It was in great demand for over ten years, though unfortunately, an update was never made and the data became outdated. When we saw old data being used for research and included in local government websites, we stopped providing the CD.  Although people may like having an offline copy of data, the online REST services are updated more often, made available by the authoritative source (APA), and are published with cartographic standards such as symbology and scale thresholds as intended.   Additionally, we found with the CD containing 50 "raw" data layers, end users would often call and ask "do you mean we also need GIS software?" With online mapping applications, we can tell a more complete story of the natural, cultural, and jurisdictional landscape of the Adirondacks in an easier usable package – all within a browser independent of any desktop client software.  It's a significant advantage over traditional data distribution formats."
Augmenting the APA's effort in distributing geospatial datasets via REST services, the agency also provides  a series of web maps and applications for generic online viewing as well as publishing other GIS resources and Story Maps.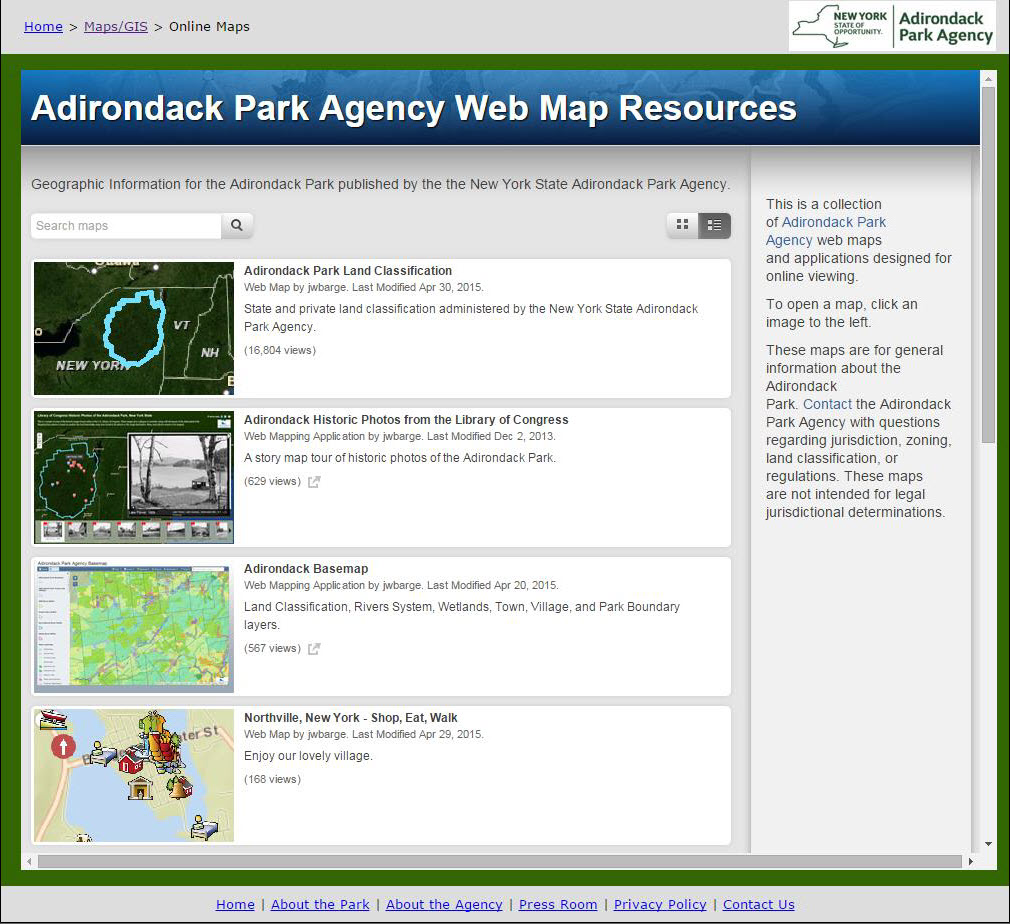 While NYS government agencies involved in geospatial technology continue to be slow in the broad deployment of publishing map services, the APA map service portfolio serves as an excellent example of how a New York State government agency can make geospatial data discoverable and freely accessible.   (Note:  An Excel spreadsheet of other map services being published by NYS agencies can be downloaded from this page.)  As part of a GIS workflow, map services provide a much more efficient  process of accessing and making geospatial datasets accessible.     And with the added benefit that REST services are consumable by most geospatial desktop clients and  other web viewers – including open source.
BTW – one of my favorites on the NYS map services spreadsheet is the reference to the Council on Children and Families (CCF).  Perhaps illustrating the advantages of building GIS capacity more recently (aggressively focusing on web services) versus earlier client/data heavy architecture – you can't even find a CCF dataset on the NYS GIS Clearinghouse.
So whether you are in the North Country for leisure and resting or maybe fortunate enough to be doing geospatial work – the Adirondacks has something for you.  Kudos to the APA in its ongoing commitment and efforts to publish map services.
It's all good and RESTful in the Adirondacks!