I first wanted to publish this article initially as a wish list to the GIS Santa Claus in early December, but the holidays came and went so I am now submitting it as a New Year's wish list (Part 1) for the 2017 GeoCon  in Lake Placid.  There will  be other suggestions over the next several months and I'll remain cognizant  what I wish for as I may be submitting an abstract to present myself.  Maybe.
So to start the discussion, here is an initial list of  ten geospatial mapping applications and program areas I'd like to send a speaker invite to for the 2017 GeoCon – and why.
NYS Office of the Attorney General:  New York Crime Gun Analysis https://targettrafficking.ag.ny.gov/tool/
While mapping continues to be one of the primary end products of GIS analysis, geospatial data is increasingly being used in a wide range of data visualization platforms such as Tableau.    I'd welcome the opportunity to attend a presentation by the Office of the Attorney on the Crime Gun Analysis report outlining data collection, data analysis, and the rendering of the data through maps, tables, and charts.  Not the normal GIS menu.
In context of geospatial, this program reference isn't so much about "what it is", as opposed to more about "what it isn't".  Or at least I think.  From my level, the REDC framework has always been somewhat of a mystery since current state administration created the 10 Regional Councils in 2011.  And even more confusing that the geography of the REDCs do not coincide with the statewide Regional Planning Commission boundaries. That said, there is an incredible amount of geospatial information and analysis in the Council's underlying mission.  Everything happens somewhere.  And there is a ton of money coming through the Consolidated Funding Application (CFA) process which I believe the GIS community should be more engaged and recipients of to some degree. Uber opportunities for web mapping applications, Story Maps, and GIS-produced maps for publications though one would be hard pressed to see any real evidence of a professional GIS touch in any of the Council products and services.   I looked through four regional 2016 "progress" reports (Hudson Valley, Finger Lakes, Capital Region and Southern Tier and found very limited reference to GIS/geospatial technologies.   Some kind of presentation by one of the REDCs and/or regional GIS personnel involved in this program would be most informative for the statewide GIS community.  Otherwise I doubt we're going to hear anything through the state GIS program office on this.

This is more of a selfish request than anything because I really don't fully understand the makings and how 511NY operates in context of GIS/geospatial data collection, sources, work flows, or even development of their applications including the online mapping stuff.  I do know it's big, visible, seemingly growing in functionality, supported by a mess of New York State transportation agencies -even though it has its own .org web address.  It also creates a lot of data which would be useful to consume and use in local government web mapping applications.   I'd be the first one to sign up to hear how it all comes together, funding, sources of the data (including what is being taken from and/or generated at the local level), opportunities for collaboration with local GIS programs, and what's next.  How long before we see an Uber icon on the 511NY homepage to help support trip planning?

Goods movement are not often under purview of most government GIS/geospatial programs, but by extension asset and vehicle tracking systems are becoming more popular,  if not necessary.  At least two corporations are listed on the landing page (St. Lawrence Management Corp. and Saint Lawrence Seaway Development Corp –with a Canadian counterpart also itemized) which oversee a lot of technology to support this mapping program.   For all of New York State's presence on the waterfront – both freshwater and seaward – some maritime mapping and navigation presentations at GeoCon would be refreshing.   Vessel tracking even appears on the New Tappan Zee Bridge construction project website.
NYC Dept. of Environmental Protection Recreation Areas
http://tinyurl.com/gvc2yva
I've always been in awe of the New York City water supply system – it really really is a civil engineering marvel.  Methodically over the past 20+ years the city has built incredible GIS capacity to manage a vast amount of natural resources and infrastructure geospatial data which cover a huge geographic footprint in southeast New York State.    While this viewer represents and promotes only recreational assets within their jurisdiction, a GeoCon presentation by senior NYC DEP GIS staff from their Kingston and NYC offices would it would be incredibly informative.  NYC DEP's  use of lidar, tax parcel datasets, stormwater and wastewater systems, orthophotography, land use cover, invasive species mapping, aqueduct system data, watershed modeling, and everything in between would amaze even the most seasoned NYS GIS professional.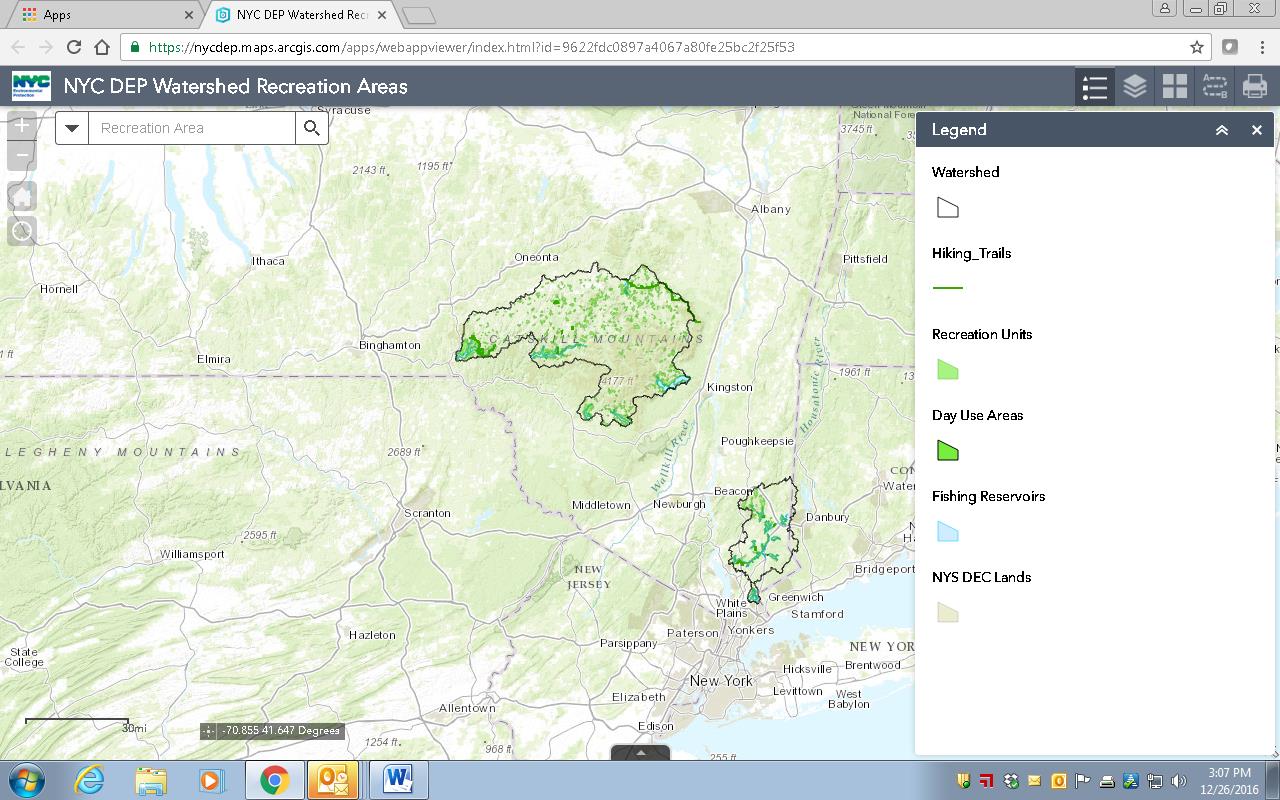 School Transportation Spending
http://www.cbcny.org/sites/default/files/transportationmap_perpupil.html
School bus transportation continues to be one of my statewide favorites.  These budgets dwarf local government GIS budgets while at the same time continue to receive free address data from the state.   I'd like to think there is some kind of give back in all of this. Given that school districts also use geospatial technologies in a wide range of applications including analyzing census data and live birth statistics, creating emergency response plans for campuses and facilities, spatially redefine school catchment areas, map community facilities, and frequently reference local road and environmental datasets, it seems there should be some common ground in establishing a working relationship with local and regional GIS programs.   Unfortunately, decades later we continue to run in different circles.  The Albany area is home to two successful software companies positioned in the bus transportation space:   Transfinder and  Tyler Technologies.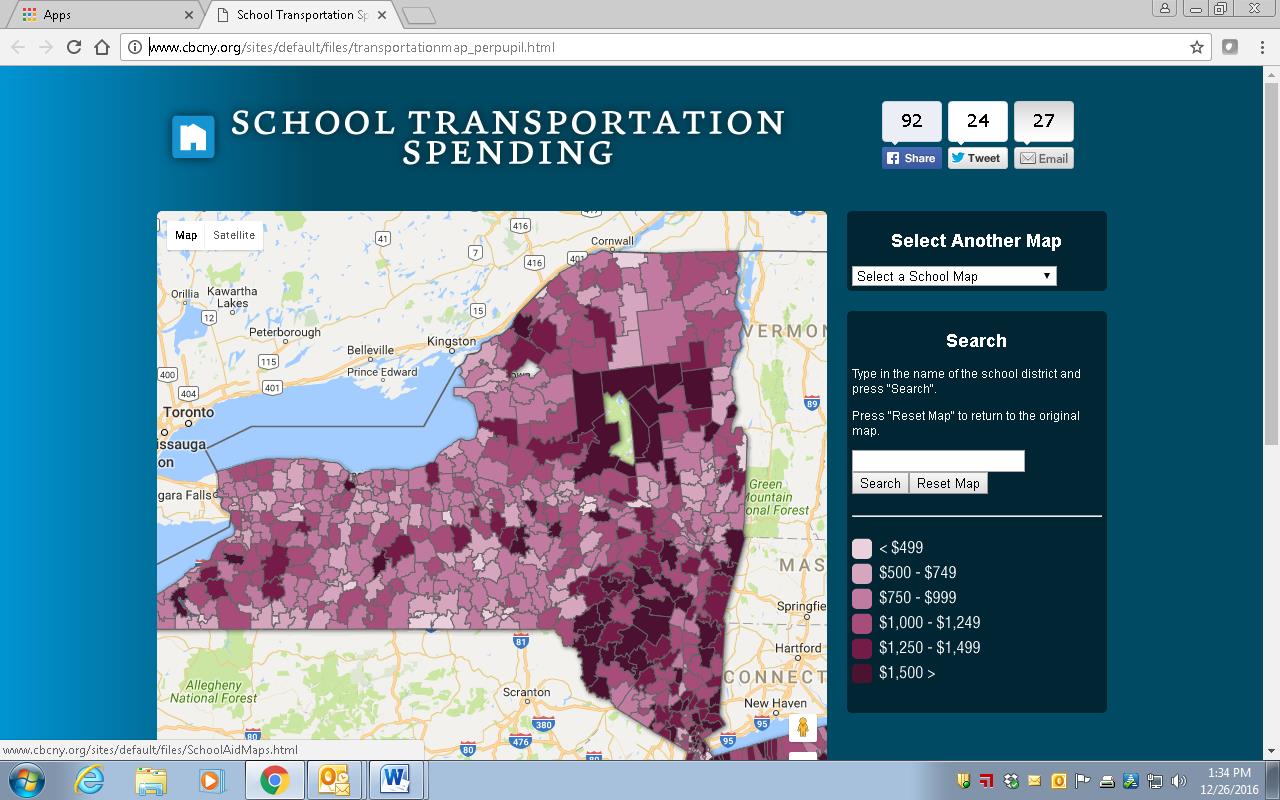 Council on Children and Families (CCF):  Multiple Systems Navigator
NYS CCF will never get their due recognition as one of the first New York State agencies to go out on their own and start building web mapping applications independent of the state GIS program office.  And the statewide GIS community is better off because of their efforts.     Building geospatial capacity in the social services arena is particularly important to county governments as up to one-third of county budgets can often be tied to health and human service programs – most of which are state mandated. CCF folks should be on every NYS GIS conference guest list and by doing so provide county GIS managers with plenty of take-a-ways to go back home and start similar discussions with equivalent county departments.   Geospatial applications in these areas have broad and significant statewide relevance.  For starters take a look at the Home Visiting Programs or the Multiple Systems Navigator mapping tool.  Someone please reserve a couple spots for CCF at Lake Placid.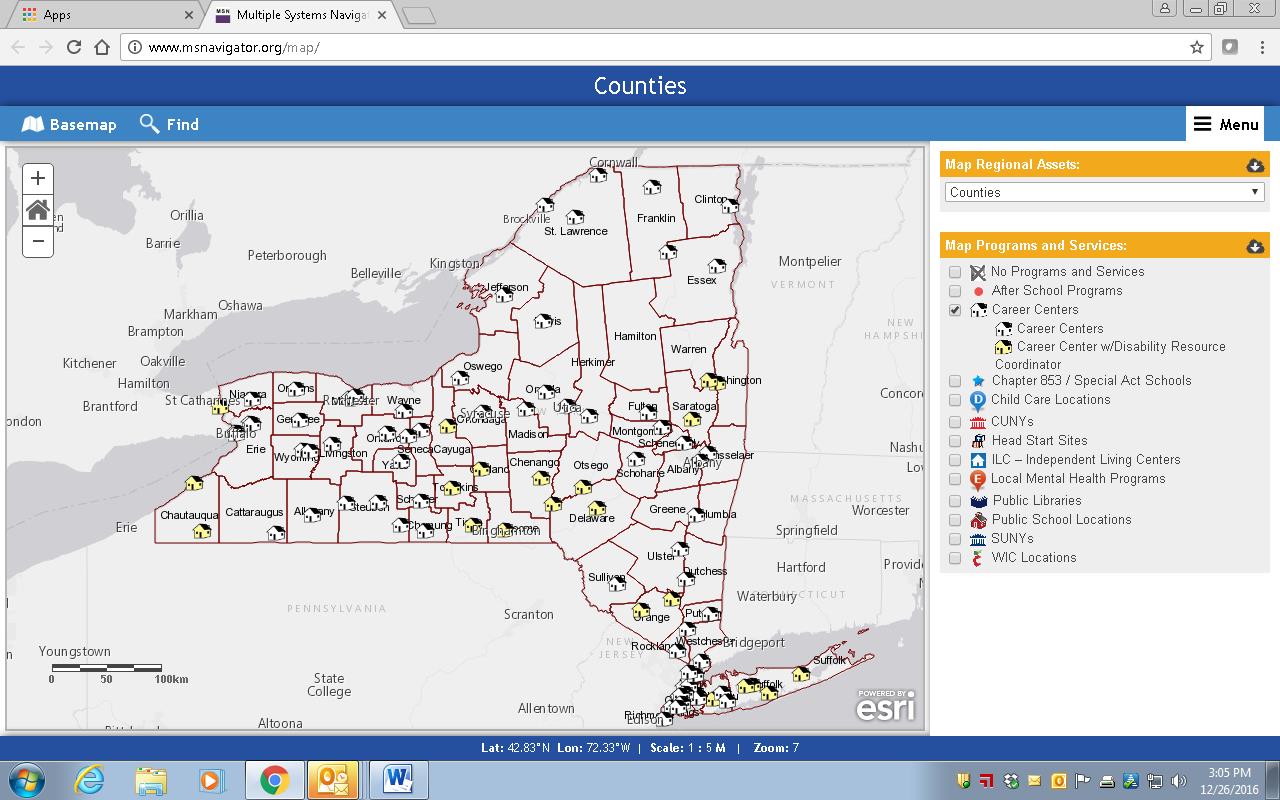 New York State Shale Gas Infrastructure Mapping
http://youareherenymap.org/
This is an interesting application due to the amount of data and information being collected and published relative to the statewide shale mining effort.  I never want to be responsible for gathering and authenticating crowdsourced data, but this grassroots effort is impressive and I'd sure like to see someone from the Sane Energy Project make a presentation on how it all comes together.    This content plays right into funding and monies associated with the Safe Pipes Act of 2016 of which local/county governments need to ramp up to secure.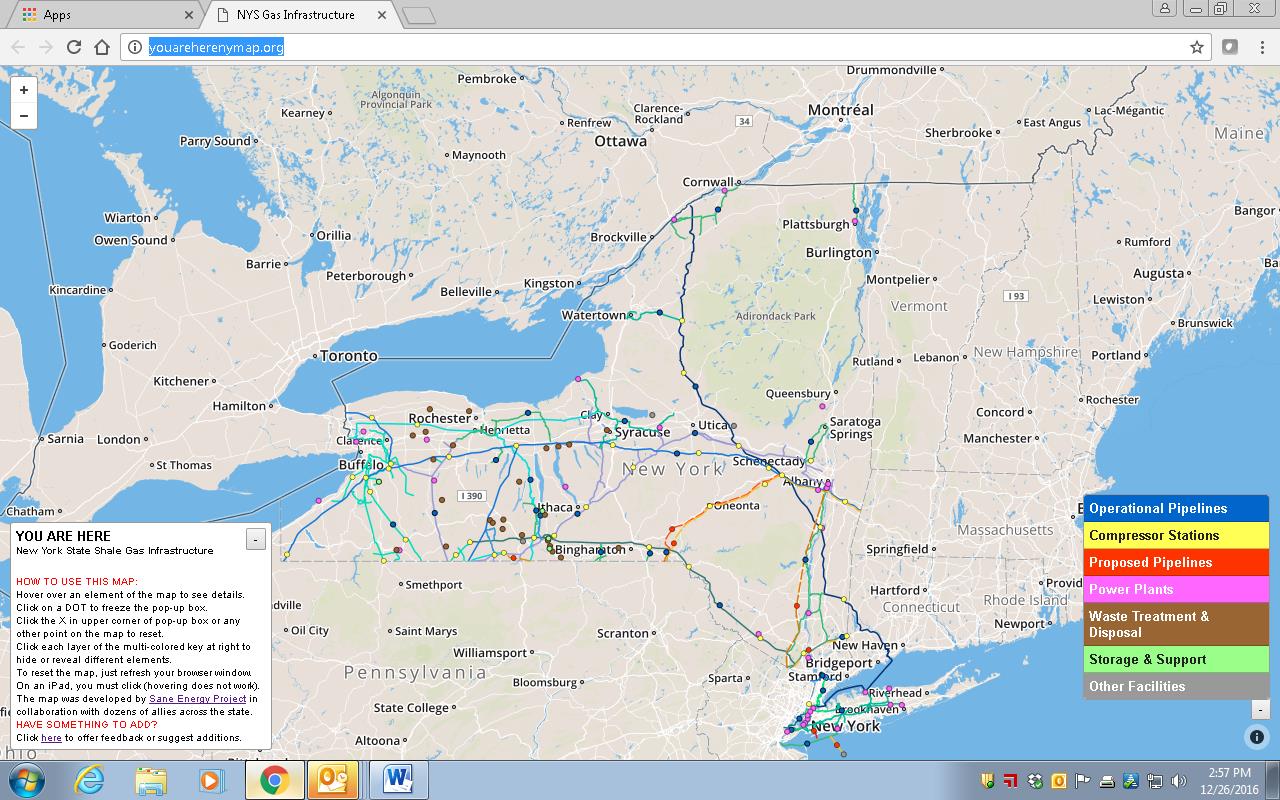 Street Gang Mapping
http://interactive.nydailynews.com/2015/12/gangs-of-new-york-city-interactive-map/
Interesting use of data from the New York PD Juvenile Justice Division which focuses on gang violence in the city.  Published about a year ago in the NY Daily News, this effort focuses on how the NYPD uses social media, and related sources, to establish the presence and locations of street gangs.  While the Daily News is not known to be of the most scholarly of papers, the article does a good job of baking the data and publishing a simple and easy-to-use online map.    If I had my way I'd have someone from both the Juvenile Justice office and the newspaper make the presentation.  The application homepage is not for the meek.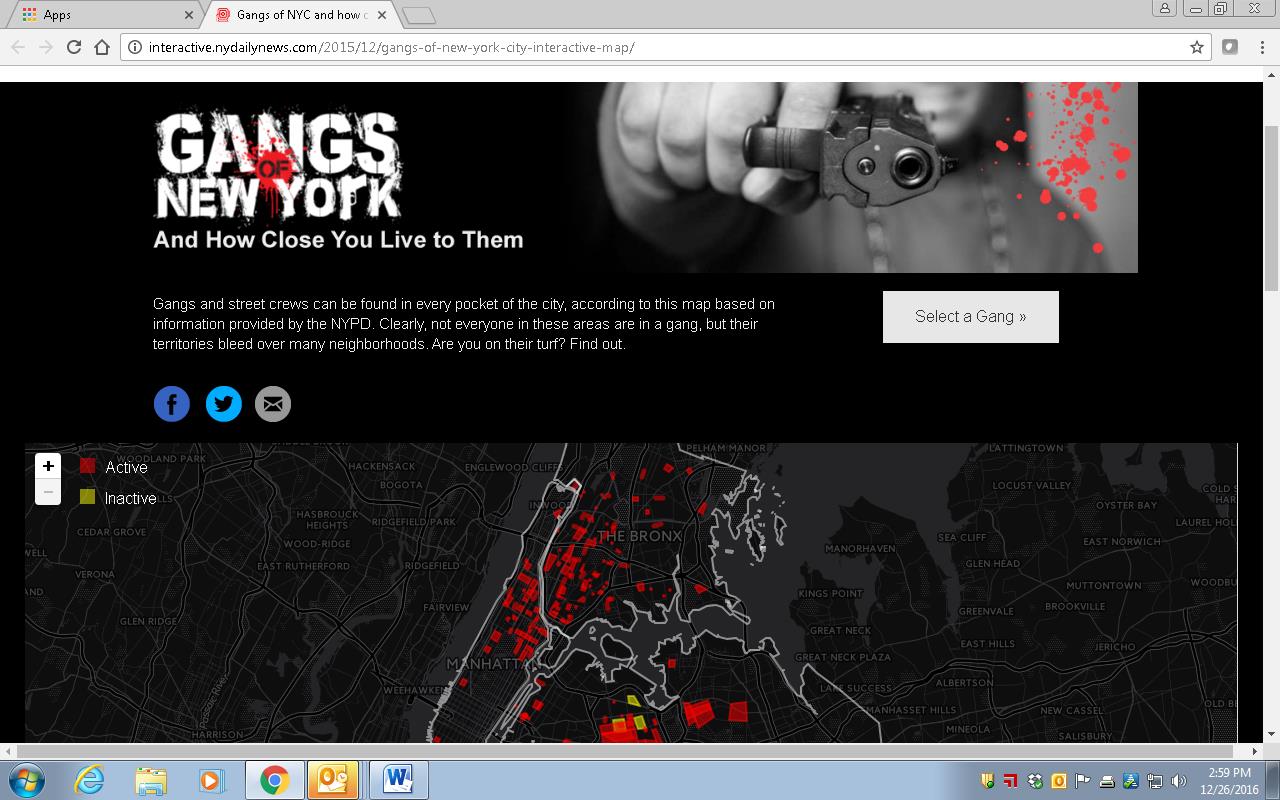 Mapping New York Drive-in Movie Theaters  
http://tinyurl.com/zqhlrag
Though nothing special here geospatial, this is the kind of stuff that makes awesome tourism and public interest Story Maps.  Perhaps the Association can comp the www.newyorkupstate.com (organization which publishes the map) or I Love New York folks to GeoCon?  (Btw – is there even a mapping engine associated with the I Love New York website?)  What better end destination tourism spot in New York than Lake Placid?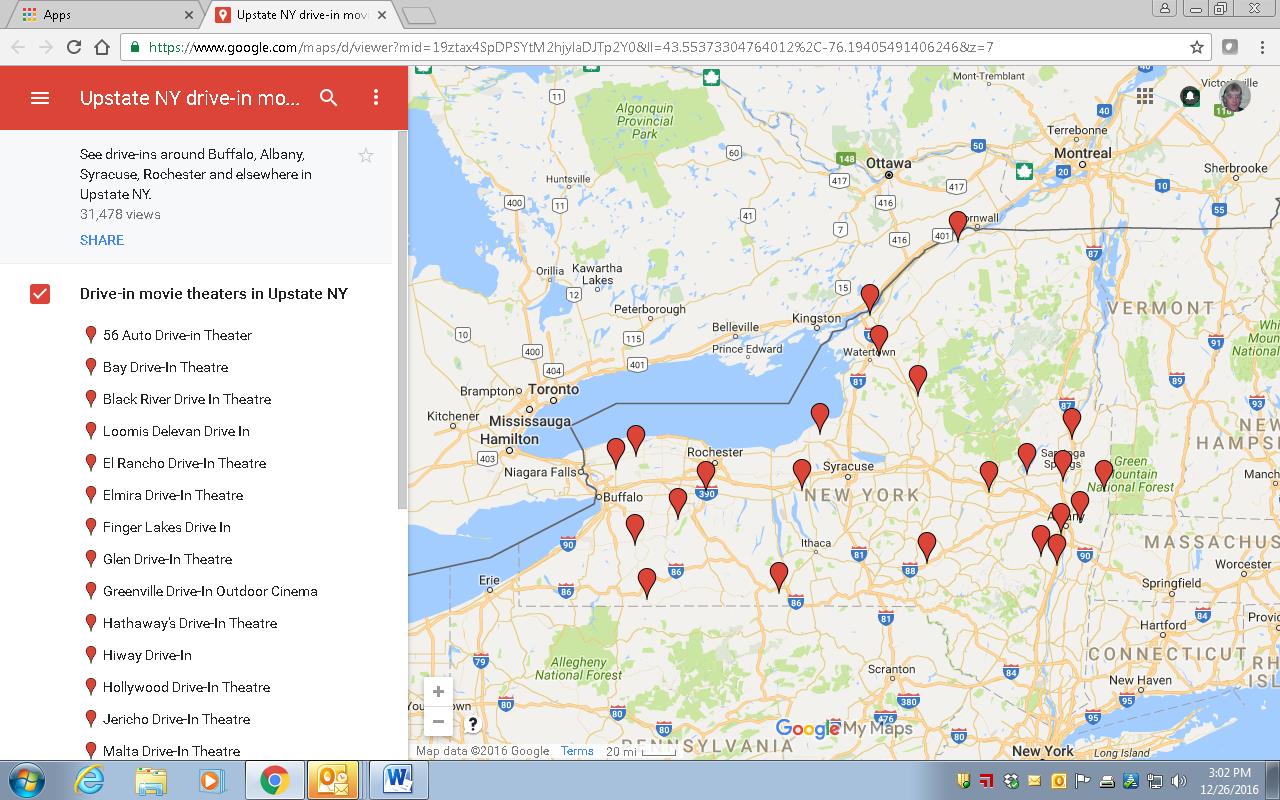 Next:  Thoughts on a keynote speaker and pre-conference activities.  It's Lake Placid, right?  I'm thinking skates, hockey sticks, or some kind of broomball tourney at the Olympic ice arena downhill from the conference center?  Local government vs. state government.  No refs.