It's always refreshing discovering new startups and firms mixing geospatial concepts with other technology and media platforms.  Not necessarily true geospatial firms which we've come to label as such, but clearly operating on the fringe and providing selected products and services mainstream geospatial consultants market and provide.  One such relatively new firm is Orbitist based out of Fredonia, New York.
Orbitist is led by Nick Gunner who has been filming and directing video productions since 2007 when he began pursuing his Bachelor of Science Degree in TV/Digital Film, Audio/Radio production, and Earth Science at the State University of New York at Fredonia. During that time, Nick started building content management systems and digital mapping technology which he continued while serving four years as the university's New Media Manager.   On the side, he continued to pursue freelance work as a public radio producer, freelance documentary filmmaker, and web developer. In the Summer of 2015, Nick launched Orbitist LLC as part of the Fredonia Technology Incubator with the idea of using digital storytelling and technology to make important information as accessible as possible.
Initial Work
The Roger Tory Peterson Institute (RTPI) of Natural History was Orbitist's first client.   In the Summer of 2015 they commissioned a short documentary on the Chadakoin River in Jamestown, as well as map three tours about various natural history topics.  Representative examples of RTPI products can be viewed on YouTube and the bottom three links on this Orbitist web page.  During this same time period – and ongoing today – Orbitist also performed work for the Chautauqua County Visitors Bureau.
Other recent products and services include:
Software Suite
Relying on the experience he gained building systems for the last 10 years, software products used at Orbitist reflects Nick's commitment to combining content management with interactive mapping – much of which is accomplished by integrating and combining leading Open Source components.   Currently the Orbitist mapping platform is a simple content management system which associates posts (internally called "points") with latitude/longitude values.  The Orbitist team often uses Mapbox GL as a primary front-end mapping library but behind that everything in their system is API-driven, meaning story maps are created top of products such as Leaflet and Google Maps.  They also use Carto as a stand-alone product for building real-time analytics maps.  All combined, the Orbitist "system" also manages images and a variety of data (icon type, time of day, external links, etc.) and provides access to YouTube, Vimeo, and even Facebook for video hosting. GitHub is leveraged to host static web projects.
In summarizing their "go-to" software suite, Nick notes:
"I've found that for telling stories with interactive data, Carto is amazing. For designing outstanding base maps and for the best mapping interface in my opinion, Mapbox all the way. And for telling stories on top of maps, Orbitist's original mapping platform is un-rivaled!"
Current Work
Orbitist is currently working with the Chautauqua County Land Bank using all three of their core services (video production, data visualization, and web development) showcasing the important work they do. Orbitist staff is visualizing local datasets for Land Bank to help assess neighborhoods and properties to invest. These include serial code violations, tax foreclosures, property assessments, and County GIS data sets. This work rolling out a map-based crowdsourcing platform which will allow residents to survey their neighborhoods for abandoned and dilapidated properties as well as developing a model to identify slumlord properties in the community.
Orbitist continues to focus on conservation and environmental outreach with the intend of building tools and story mapping to bridge the gap between water, agriculture, ecology, urban green spaces, and the general public.  Making important information and map-based data more accessible.  In addition to these many projects itemized above, Orbitist is starting a series of projects with the Chautauqua Institution.   Their work in this space is reflected as finalists n the Erie Hack competition and will be competing in May for seed money to apply our products to water-related issues around Lake Erie.  A very recent online article via Fredonia.edu News tell more.    Orbitist is also using drone technology for video production and for capturing imagery for making high definition mapping tiles.  Having recently obtained a Part 107 Drone License the firm is intending to use drones for spatial data collection, too.
Summary
Find out more about Orbitist's products and services by visiting their website.  One can even set up an account to start making and sharing web maps and stories with the online tools Orbitist provides as part of their online  Learn section.   "We are first and foremost storytellers interested in helping people understand and explore the world" comments Gunner, "and right now that understanding comes in the form of multimedia mapping, data visualization, and video production. But who knows what that will mean down the road. We're going to use whatever tools best allow us to accomplish our mission and business needs."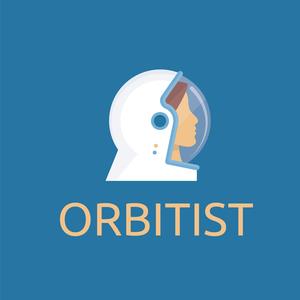 With all the talk about statewide incubators aligned with the SUNY campuses,  it is nice to see a start-up with geospatial ties emerging the program.  Orbitist is a relatively young company and only now beginning to define its space across the New York State technology landscape.     We wish them well.
Note:  Orbitist will be presenting at the 2017 Westchester GIS User Group Meeting, May 18th at Purchase College.