While academic institutions across the State of New York offer rich and diverse geospatial educations at the graduate, undergraduate, associate, and increasingly certificate programs levels, one location offers a unique and phenomenally different perspective on application of GIS and geospatial technology:  The U.S. Military Academy at West Point, New York.
Over the past several years I've had ancillary introductions to the geospatial program at the U.S. Military Academy, albeit it was greatly broaden after a presentation by West Point instructors at our May 2016 Westchester GIS User Group meeting at Purchase College.  It was here conference attendees were fortunate enough to see a video – accompanied by the display of an actual device  – on how drone technology was being introduced and taught in the Military Academy classroom environment.  Since then I continued conversation with staff from the Geospatial Science Program in the Department of Geography and Environmental Engineering and was recently invited to attend a Computer Cartography classroom lecture earlier this month with instructor  Lieutenant Colonel (LTC) Jared L. Ware.
Teaching and Classroom Environment
The U.S. Military Academy is an internationally recognized institution for combined academic and military excellence. West Point offers cadets a bachelor of science degree in GIS, and the graduates go on to serve in the armed services as well as various positions in the public and private sectors.  Graduates are posted to installations across the USA and the world.  There is no specific place graduates specializing in geospatial technology move on to as they have a choice based on their preferences for a military branch or a priority installation.  Some will have the opportunity as junior officers to serve at the National Geospatial-Intelligence Agency focusing on military intelligence while others will apply the technology in more traditional applications with the U.S. Army Corps of Engineers.  Understandably, the program also focuses on the utilization of geospatial technologies – including GPS, satellite imagery, real-time force tracking, sensor integration, and massive geographic databases – for use on the military battlefield.  The Army also provides geospatial support in a wide range of humanitarian relief efforts such as those currently ongoing in response to Hurricanes Harvey, Irma, and Maria.  The efforts, as well as other Army geospatial products and services are highlighted on the Army Geospatial Center website: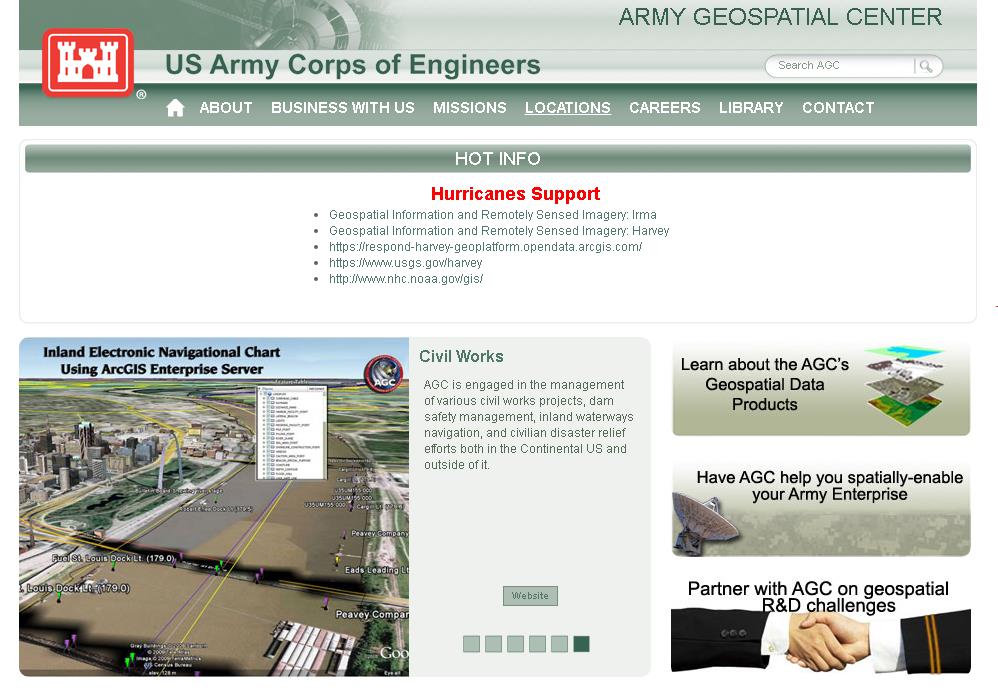 GIS instructors at the Military Academy use a suite of software including  ESRI, ENVI and ERDAS as the primary GIS software, along with Socet Set and Trimble for survey and photogrammetry.  There are plans to begin building additional capacity with Open Source software such as QGIS as the Army is increasingly seeing this software being used in developing countries.  And as a result, needs military personnel trained in the software to collaborate and work with local users.  For Fall2017, the Geospatial Program has 60 declared GIS Majors which includes sophomores, juniors, and seniors.  This major requires the completion of a 26-core course  curriculum augmented with a wide range of electives many of which are similar to other traditional academic coursework offerings such as Urban Geography, Water Resources Planning and Design, and Principles of Land Use Planning and Management.  There are additional 80 students taking GIS-related courses from other academic majors from the Department of Geography and Environmental Engineering including Environmental Science, Environmental Engineering, and Geography which use GIS coursework as an elective.  The newly created Space Science major is anticipated to have a significant GIS/geospatial focus as well.
With regard to their approach in teaching geospatial science at the Academy, Instructor LTC Ware notes:
"We want cadets to understand the theoretical and applied aspects of geospatial information science.  Our program provides a comprehensive grounding in the theory of academic disciplines such as geographic information systems, photogrammetry, remote sensing, and surveying.  Our program also challenges cadets to understand applications that are developed and derived from the theory, and we use systems (mainly hardware and software) to allow cadets to create their own products and learn from a hand's on approach.  We want our students to be intelligent in the science so they can solve problems should applications not exist, or they can easily troubleshoot existing systems and reach a solution.  As an example, we want cadets to understand the hardware and software, how the hardware and software works, and the theoretical underpinnings so as technology changes, they can adapt with it.  We also adapt our academic courses as theories and applications evolve, and we are currently exploring data visualization so we can be at the forefront of new ideas and new technologies."
Drone technology is becoming an important teaching tool in many areas of the Military Academy curriculum and LTC Ware and his colleagues have been very proactive in utilizing drone technology in the Geospatial Science Program.  An excellent overview of the development of drones at West Point appears in the November 2016 edition of the Commercial UAV News.
The Military Academy's Geospatial Information Science major is accredited by the United States Geospatial-Intelligence Foundation (USGIF) which developed the GEOINT Certification Program.  The GEOINT certificate provides a foundation on which GEOINT professionals can certify the knowledge, skills, and abilities necessary for successfully meeting the duties and responsibilities within the multi-faceted GEOINT tradecraft.  With this accreditation from USGIF, the Military Academy can offer students GEOINT certificates accompanying their college degree.  (In previous blog posts I've referenced in the head-to-head GISP vs. GEOINT certificate match-up, i.e., which might be better for the NYS GIS professional, my vote goes to GEOINT due to the large – and growing – drone research and development industry here in the Empire State.)   Additionally, in 2015, the National Geospatial-Intelligence Agency (NGA) and United States Geological Survey (USGS) selected the US Military Academy to be one of the academic institutions included in the Centers of Academic Excellence in Geospatial Sciences program.
Hudson Highlands Land Trust (HHLT)
Its always interesting to learn about an organization's work outside of the day-to-day norm.  Maybe, and often, in context of a contribution to the larger good.  Such was the case as I was exiting my time on campus with LTC Ware when he mentioned a cadet's volunteer summer work with the Hudson Highlands Land Trust (HHLT) across the Hudson River in Putnam County.  I reached out to HHLT Conservation Stewardship Manager, Nicole Wooten to find out more about the project and its outcome.  She replied:
"Working with West Point LTC Ware and Cadet John Stabler to map the current trail system on Hudson Highlands Land Trust's new Granite Mountain Preserve was a great experience and partnership that benefited both the Land Trust and the community of Putnam Valley.  Under LTC Ware's guidance, Cadet Stabler gained real, immediately-applicable GIS skills.  His work took place both in the computer lab and in the field, combining aerial imagery and prediction with on-the-ground proofing.  He really dedicated himself to the project, going above and beyond to generate data on not only existing recreational trails, but also historic stonewalls and important natural features.  The Land Trust is now using that data to plan the best possible trail system for Granite Mountain Preserve.  We are grateful for LTC Ware's and Cadet Stabler's work, and look forward to continuing this great partnership."
Summary
While the theoretical geospatial concepts are similar to that in civilian applications, the final applied use of geospatial technology, as taught at the U.S. Military Academy, is often uniquely different.  Most notably is in the defense of our country and allies.   The Empire State's higher education academic geospatial offerings are indeed very diverse and continue to contribute to the development and evolution of the technology.
For information contact Lieutenant Colonel Jared Ware, Assistant Professor in the Geospatial Information Science Program, at Jared.Ware@usma.edu.