While planning on some Summer 2017 High Peaks hikes and overnights with my sons, I got to thinking about some previous communications I had with long time colleagues John Barge at the Adirondack Park Agency and Doug Freehafer at the U.S.Geological Water Science Center in Troy about other state highest geographic features.   Most know about the "46ers" – a.k.a the 46 mountains in New York State above 4,000'.  (Yours truly having bagged about ½ of them.)  But what about other geographic features and facts that might make good trivia questions –  like what are the "highest" lakes and water bodies in the Empire State?
No problemo.  Doug pointed me to the U.S. Geological Survey Geographic Names Information System (GNIS) search engine in which I queried for all New York State lakes over 2,500' and the search returned 35 lakes  based on the National Elevation Dataset.  Surprisingly not are all in the Adirondacks.
Saving the search results and converting to a spreadsheet, it's easy enough to add the lake X,Ys to a  ArcGIS Online viewer (or any viewer of choice for that matter) called the Highest Lakes in New York State.   As shown in the following images, the highest lakes are located near Mt. Marcy (Lake Tear of the Clouds at 4,321' and Moss Pond at 4,4,252') with Hodge Pond showing up at 2,592' (#26 highest)  much further south in Sullivan County.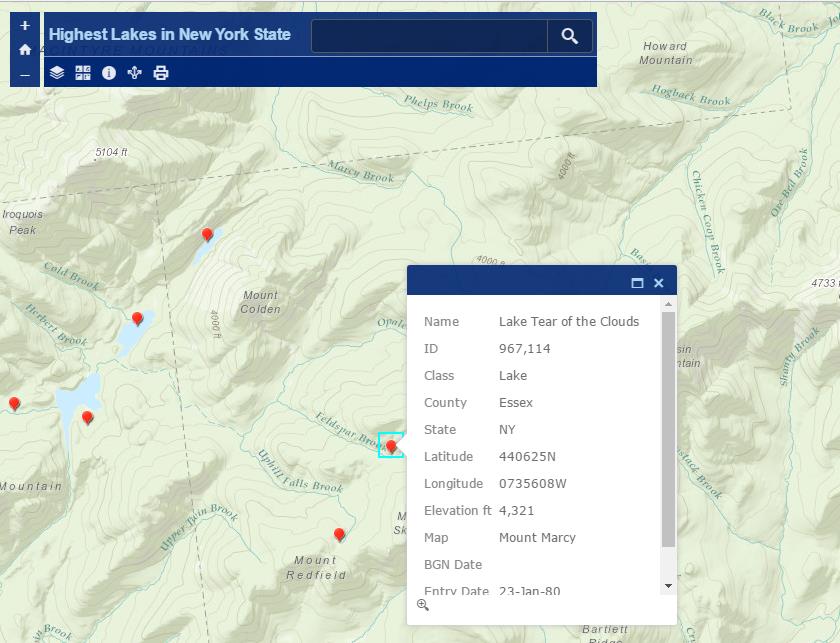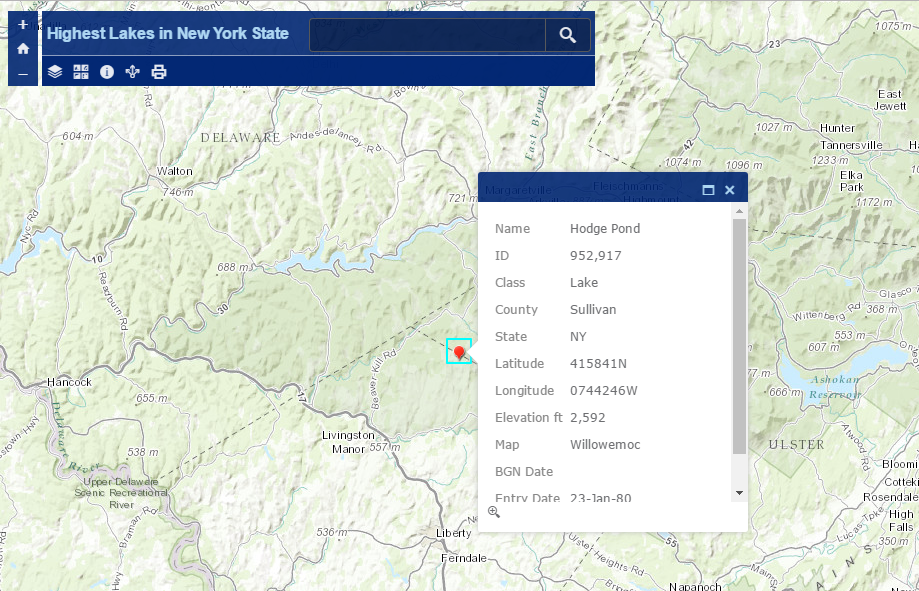 Eight out the ten highest lakes are in Essex County though not all are found on the Mt.Marcy USGS quadrangle. What other quads are in play?
Won't find any summer lifeguards on duty at these lakes and the water temperature probably won't be the same as your shower water, but it's nice to know if your back country trips might take you close enough to potential swimming or fishing holes?  (Our lastest route and trip manifest did not include any of these water bodies.)   GNIS is a great source of national and Empire State geographic features which we'll occasionally explore in future eSpatiallyNewYork posts.
Enjoy your summer!