Working professionals in the Lower Hudson Region now have the opportunity to learn more about and build introductory skills in Geographic Information Systems (GIS) technology through the noncredit GIS Certificate Program available at Purchase College. The certificate program will enable students to establish GIS skill sets to augment current job responsibilities and build the "geospatial edge" in an increasingly global and technological world.
Everything happens somewhere.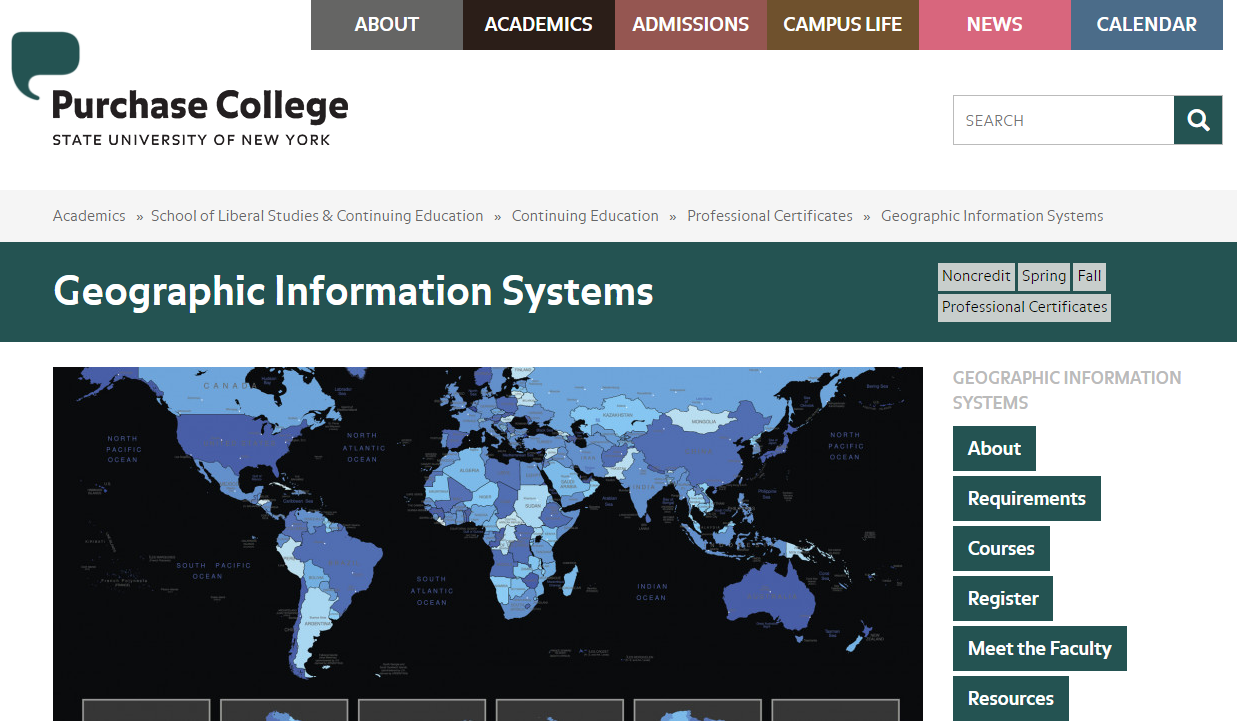 While there continues to be strong interest from the regional engineering/AutoCAD and environmental communities on how to better access and integrate GIS functionality into their organizations and business offerings, Westchester County GIS staff, which is closely aligned with the Purchase College faulty and supports the GIS Professional Certificate program, is seeing a noted increase in the use of GIS mapping technology in emerging areas such as nonprofits, health and social service programs, community groups, and crowd sourcing efforts.   One of the primary reasons for this increased use is the expanded use of web and server technologies –  a noted departure from the reliance on heavy software client applications – by instead leveraging more easy-to-use geospatial applications for a broader range of users.  This is particularly true in organizations and companies with limited technical expertise and infrastructure.
Starting in January 2018, students can earn the noncredit GIS certificate in as few as two (2) semesters.  Three elective courses ( Using Maps to Tell Your Story, Getting to Know ArcGIS Online, and Using Cloud-Based and Online GIS Platforms) are being offered individually as two-day courses on weekends.  A total of 16 hours per class.  No need to try to and  attend class during an already busy work week.  Course descriptions and instructor information, as well as registration information, is available on the Continuing Education GIS web page.   Successfully completing these three Spring 2018 courses and combining with one required course (GIS Essentials or Geographic Information Systems (GIS) – offered each fall semester by the Environmental Studies program in the School of Natural and Social Sciences, on a noncredit option basis), the Purchase College GIS Certificate can be obtained in 2018.
Students may take individual GIS Certificate courses without commitment to the entire program. The courses are face-to-face courses held in a Purchase College computer lab. Students who successfully complete the four required courses are awarded a certificate by the School of Liberal Studies & Continuing Education, reflecting 21 continuing education units (CEUs).  Continuing education units (CEUs) are a way of measuring and officially recognizing the time and effort a student has  put into your education for your job or profession. As you update your credentials, are in line for a transfer, promotion, or evaluation of your current position, or want to  explore a new career, the CEUs recognize student achievement in noncredit learning activities.
Spring GIS coursework at Purchase College is particularly rich in context and timely as preparations are in progress for the annual Westchester GIS User Group Meeting which is hosted on campus by the Environmental Studies Program in May.  As one of the largest GIS User Group meetings in New York State, this year's conference theme is "GIS in Sustainability and Resiliency" and is expected to be incorporated into each of the spring courses.
Whether trying to augment your existing career with a better understanding of geospatial technology or to begin to better understand "location based" concepts – the Purchase College GIS Professional Certificate Course is for you.    Registration for spring course work is now open.  Do it today!