Company Name:        Spatial Analytix
Website:                      http://www.spatialanalytixllc.com/
Established:                2015
The Company                                                       
Spatial Analytix is currently under the leadership of Ben Houston (CEO) and Matt Mercurio (GTO).  Together, both bring a wealth of experience in GIS and mapping to the growing Unmanned Aerial Vehicle (UAV) mapping market in New York State and beyond.
Most recently, Matt was GIS Manager in Allegheny County, PA and before that Project Manager at the Institute for the Application of Geospatial Technology (IAGT) in Auburn, NY. He also continues to be a principle and founder at Civic Mapper (www.civicmapper.com). Ben has spent the past six years as founder and officer at GroundPoint Technologies (www.groundpointllc.com) and prior to this worked with Matt and other colleagues at IAGT in both NASA and New York State Department of Environmental Conservation (NYSDEC) funded geospatial programs.
Spatial Analytix was formed in early 2015 to support a growing need in the UAV data processing market.   The current emphasis in the UAV market is on platforms, hardware, software and cloud based solutions, not the data. Spatial Analytix believes that the next few years will be characterized by market confusion over data quality and deliverables as even experienced geospatial professionals sort through the fog. By bringing a focus on data quality and useful deliverables, Spatial Analytix moves UAV data collections beyond being just imagery projects to producing high quality, plug and play geospatial data.
Geospatial Services   
Spatial Analytix focuses on geospatial data in terms of the data quality triangle: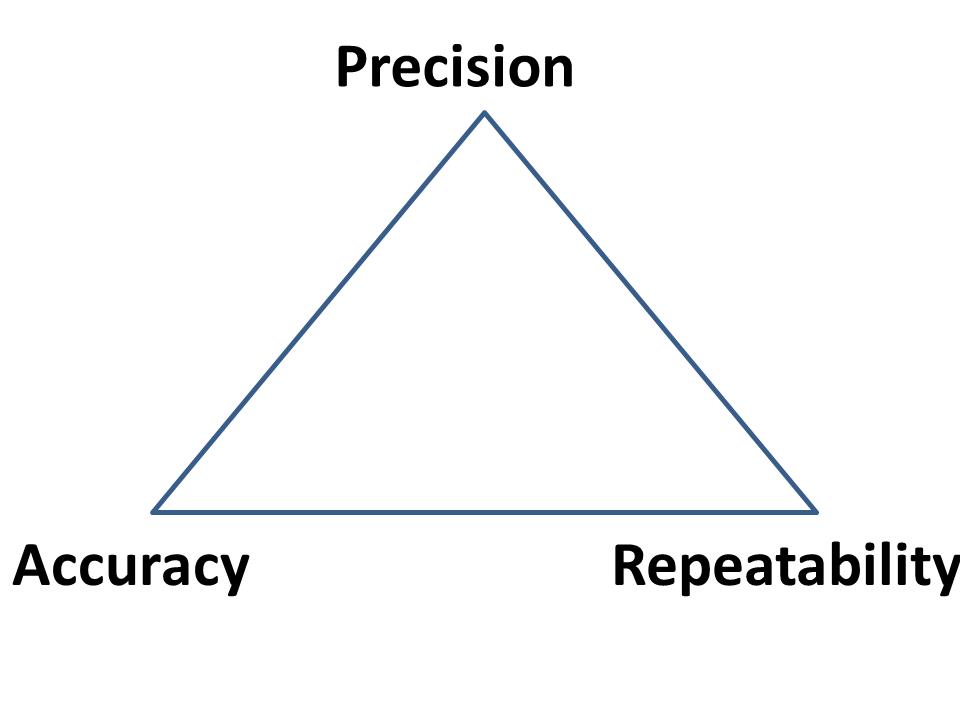 While much of the current discussion in the UAV market focuses on the wow factor of precision, Spatial Analytix also considers temporal components along with verifiable accuracy in the data deliverables to ensure customers get what they want, when they want it. It's the three elements together that bring real value to the data.
Typical outputs from automated processing (i.e., web based solutions) normally include point clouds, terrain models, and image mosaics (often labeled with the misnomer of "orthomosaics"). Such deliverables are usually acceptable for surveillance and monitoring uses, but for true GIS and engineering mapping applications, automated processing solutions leave a big data quality gap. Artifacts, noise and flight line overlap issues can clutter the point cloud and skew surface models, making for inaccurate contours and messy mosaics. Automated orthophotography can show up with smearing and ghosts, and usually do not include optimal image and cut line selection. Although available off-the-shelf geoprocessing tools in this space are becoming more powerful and functional each day, Spatial Analytix combines the right mix of quality tools, technical knowledge, and artisanal experience to get projects to come out right. The first time.
Clients can access raw data and processed deliverables through standard file systems, or as a URL which can be delivered across an enterprise for data visualization and exploration. No longer do the deliverables need to be sent to a GIS or CAD operator to put on screen for a supervisor or program manager. Live, web based delivery of hosted data is now standard. Platforms range from Google Maps to ArcGIS Online to Pictometry Connect. When compared to traditional photogrammetric and aerial survey products, Spatial Analytix deliverables are designed to be not only equivalent…but better.
Spatial Analytix is developing a network of regional UAV data collectors offering standard services including:
Point Clouds (LAS format)
DTMs (full surface)
DEMs (bare earth surface)
Contours
Breaklines
Planimetrics
Image mosaics/orthomosaics
Volumetrics
Drainage
Vegetation/Landcover/Impervious surface mapping
In the near future, Spatial Analytix product enhancements will include:
Oblique imagery integration (Pictometry Connect integration)
GeoVideo
Spatial Analytix offers Virtual Geospatial Technology Office (vGTO) services to partner companies looking to leverage UAV and geospatial technologies by providing authoritative consulting support on such things as optimal flight planning and data processing, enterprise data management, and web based solutions. Whatever the UAV geospatial data deliverable is –  imagery, elevation, vector, or raster –  Spatial Analytix is confident that users have never seen data like this before.
Contact:   
Ben Houston, ben.houston@spatialanalytixllc.com
Matt Mercurio, matt.mercurio@spatialanalytixllc.com
Website: spatialanalytixllc.com
Facebook: /spatialanalytix
Twitter: @spatialanalytix
(412) 368-6015
v GTO © Professional Services