GIS Scholars is a Rochester community-based youth program, serving ages 14-21, which started in 2012 at a small neighborhood agency.  Its origin can be traced back to as early as 1988,  when under the support of Joseph Becker,  who at the time was  employed with  the City of Rochester Bureau of Planning,  started a program which provided local youth the opportunity to learn and work with GIS technology by establishing training and employment opportunities.
Since 2014, the GIS Scholars program has collaborated with the Rochester City School District's Schools Without Walls (SWW) to begin to integrate geospatial learning into overall educational offerings.   In addition to providing office and administrative support, SWW continues to occupy an important role in the Scholars initiative towards helping identify students as potential candidates for the GIS program.  While the relationship with SWW continues, Monroe Community College (MCC) has more recently become a major sponsor of the Scholars program by donating office, administrative, and computing space at their downtown Rochester Damon City Center facility. Additional volunteers, financial donations, as well equipment and software donations from companies such as ESRI, continue to support the underlying purpose of the program.  One Scholar has already completed the Digital World course and two have started the Business GIS course thanks to a donation to the MCC Foundation.
Today, the GIS Scholars efforts, consistent with the objectives of the original City Planning program, focus on:
Training and employing youth in the use of GIS and database software and related technologies;
Involving youth directly in identifying and solving problems in their community, and;
Providing youth with leadership and management skills and experience
GIS Scholars work year round engaged in geospatial efforts in the areas of food and nutrition, assessing housing conditions, analyzing neighborhood crime data and conditions, and inventorying community assets.  They have become proficient in software products such as ArcView 3.x, ArcPad, ArcGIS, Google Earth and Street View, and increasingly AGO and Collector.  Software training has been provided by volunteers, classroom instruction, city and county staff, and free ESRI online training.
In addition to identifying potential GIS scholars through the SWW based program, other students are recruited through the City's annual youth employment Summer of Opportunity Program (SOOP).  While the 2015 recruitment at SWW was based on each student's need to complete Community Service credits and teacher referrals, the Scholars recruited agency partners who participated in SOOP for their summer efforts.  Presentations were made to larger groups of youth and then the partnering agency selected 3-4 youth to training workshops where they learned how to use data layers, geocode files, create layouts and convert layers to kmz files.  The Scholars Facebook page also continues to be a primary recruitment tool as well.
Projects are defined and initiated on several levels including applying for grants, outreach by GIS Scholars themselves,  agencies – such as the City and nonprofits looking for GIS mapping support and data collection – and teachers and staff at SWW.
Past Activities
I.  Pre-2012 and establishment of GIS Scholars:
MCC STEP Internships 2006-2007:  Researching and validating building footprint data
CONEA (Coalition of North East Associations) Home Repair Program (2009):  Creating maps with agency focusing on small urban renewal efforts.
City of Rochester: Rating building conditions thought the City's Project Uplift (2011).
II.  2012:  Establishment of GIS Scholars Program
Beginning in the Summer of 2012 with a $500 donation for one scholar, the program has since grown taking advantage of a mixture of funding sources to employ and engage the GIS Scholars including:
Community Gardens & Foodlink Programs: This Scholar's efforts included the mapping of community gardens and food pantries and organizations associated with Foodlink in the Rochester area.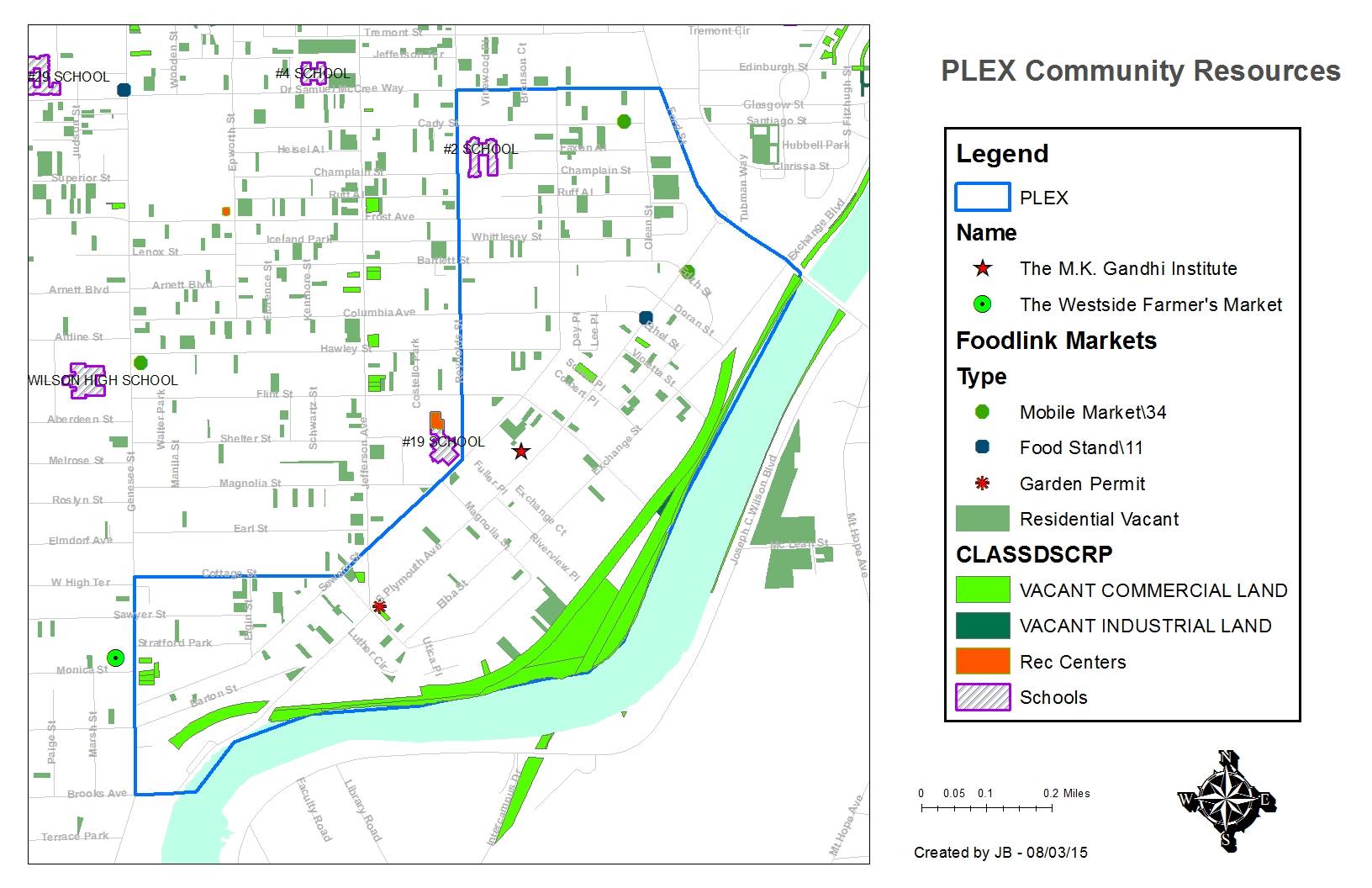 Summer 2012:  First Partner SWAN (Southwest Assoc. of Neighborhoods): Through their summer program, GIS Scholars taught SWAN students how to use ArcView 3.0 to create maps of the 'hire youth' survey they conducted.
Summer and Fall 2012 Building Condition Surveys: General assessment of residential structures condition (Good, Fair, Poor).
Winter 2013: 1st contract with NEAD/Group 14621 using baseline data from BOA to  identify  "opportunity" areas for redevelopment in the North East section of Rochester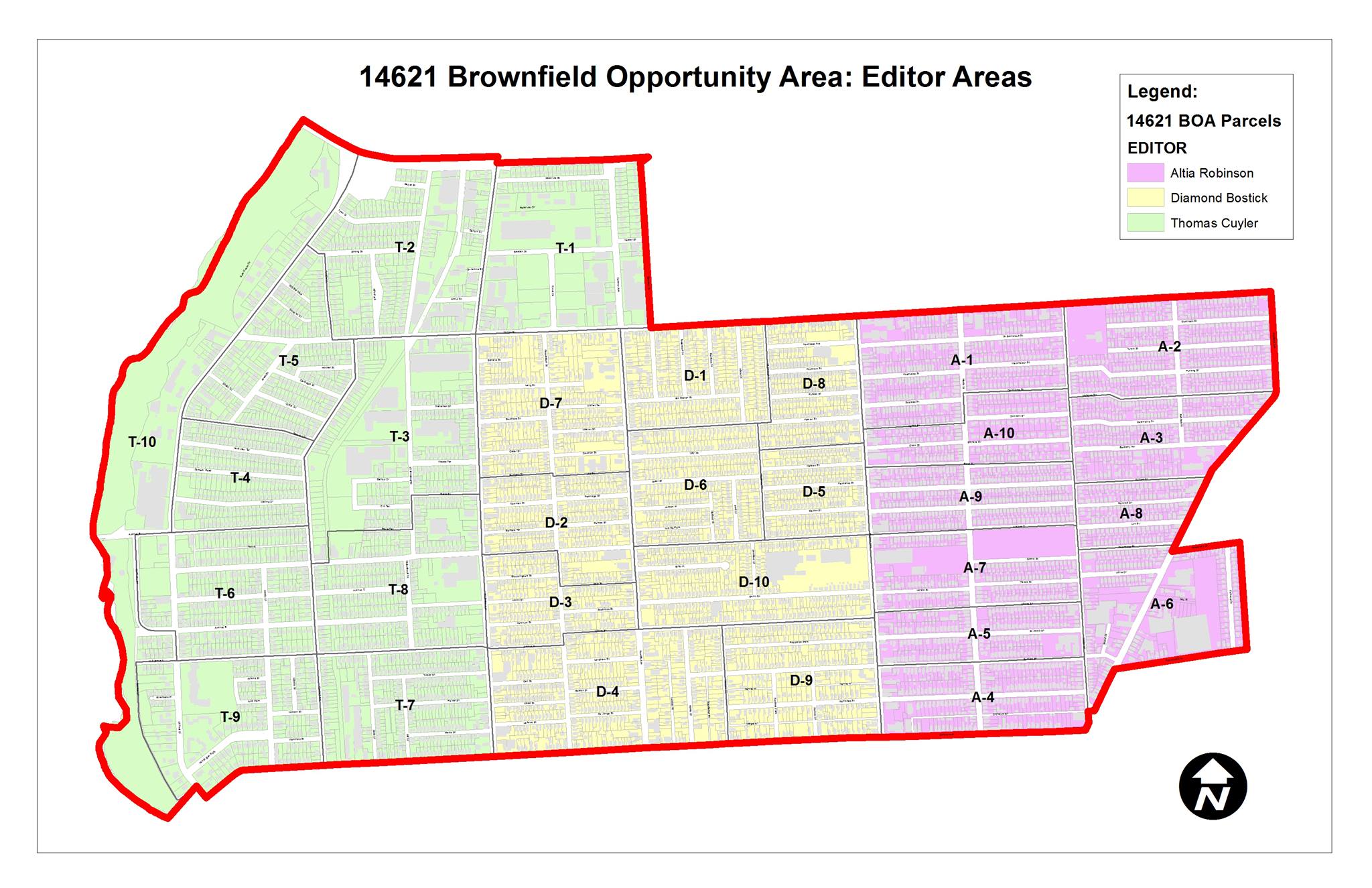 Spring 2013: Field surveys working with neighborhood Block Clubs comparing City vs. Google vs. in-field conditions.  Scholars used old Compaq handhelds with ArcPad software provided by ESRI (Scott Morehouse).
Geocoding Student Surveys: Scholars surveyed Summer Program kids regarding how they got to the program (walk, car, bus) and whether they ate breakfast at home, at the site, or both.  Survey results were used to identify potential carpooling opportunities for parents and monitor students nutritional needs.
Summer 2013 Field Trips to GIS work sites: Included trips to County and Regional Transit Service offices to meet staff and observe their functions
 Spring/Summer 2013 Growth and Development
Providing additional staff and support
Obtaining ESRI K-12 licensing
Acquisition of new lap tops
Acqusition of iPad & Nexus7 Tablets
Participation with Rochester city summer youth employment programs (2012-2014)
2013 NEAD :  Data collection by Group 14621 and NEAD for neighborhood planning
Spring 2014: Working with City's GIS staff and Rochester Police Department on the geocoding and mapping of crime data relative to variables such as type, season, and time of day.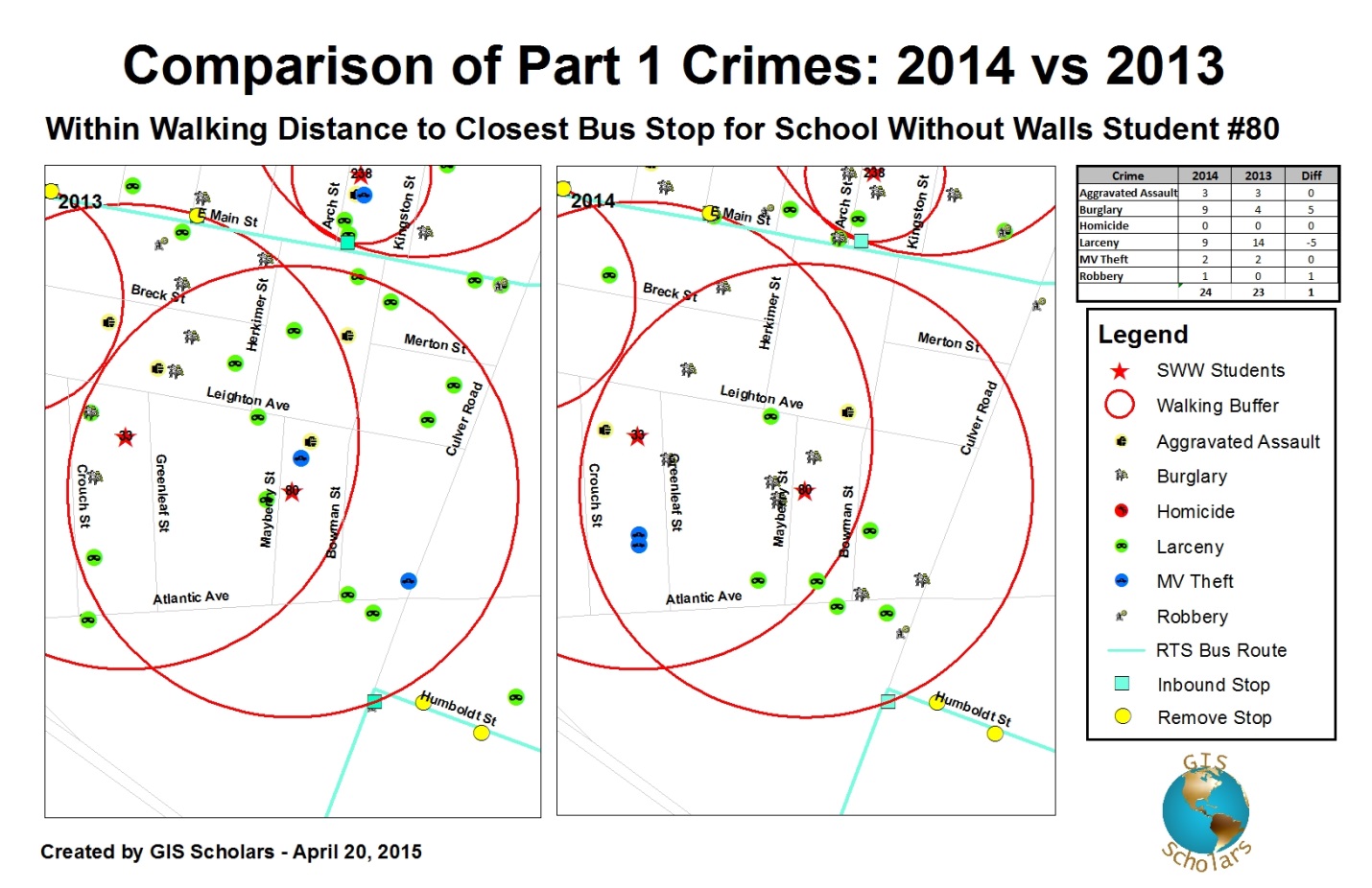 Summer 2014: The inventorying of nearly 6000 residential structures surveyed and classified by conditions. Project funded by the Scholars' Voice of the Citizen grant and the City's summer job program.
GIS Day 2014: Presentation to Project LEAP (Literacy Engagement and Achievement Program) students by GIS Scholars Thomas Cuyler, Tylon Ortiz, Gerald Cook & Janye McKinney
MCC Geofest 2014: Presentation to Educators and students on October 18, 2014
Travel to School Study: Spring 2015 at SWW in concurrently with the  Community Service program.   and had 2 full years of crime data to do analysis
Spring 2015:  Heading in New Directions
Increased partnerships and collaborations
Expanding SWW programs with Rochester High School
New ArcGIS Online Services through ESRI K-12 licensing program
MCC serving as new sponsor
1st GIS Scholar completes MCC's Digital Earth course for college credit
 Outreach: $1000 donation supported work for presentations and workshops with Upward Bound, Seedfolk, Genesee Land Trust, and NEAD.
Damon City Center: MCC becomes sponsor and begins to provide office space and access to classrooms, copying, and general office support.  The SWW program will be expanding with the ESRI K-12 licenses being loaded and available in one of the MCC labs and two Scholars will be taking the MCC Business GIS course
Results: 80 Youth reached through presentations and 11 trained to use ArcGIS and create maps and Google Earth kmz files. Certificates of Completion were awarded and 7 of the 11 want to continue in the Fall.
Moving Forward
While the GIS Scholars program is an exemplary model unto itself, combining the effort with the  high school  curriculum and the two-year community college level environment makes it very unique in New York State.   It goes further by engaging volunteers, municipal government programs, community groups, and industry and business.  Two of the SWW Scholars are taking MCC's Business GIS course and working to set up GIS Scholars as a formal organization. The biggest challenge is, of course, securing adequate funding to maintain and retain experienced Scholars to lead the next group of recruits.
Acknowledgement of the Scholars program is broad across the profession.  Most recently, the Association of American Geographers (AAG) dedicated their August 2015 GeoMentor Spotlight to Joseph Becker.
Locally, Jonathon Little, Assistant Professor of Geography, Monroe Community College, who works closely with the Scholars program comments: "Joseph Becker and the GIS Scholars have gone out of their way to advocate for K-12 educators.  The work the GIS Scholars have been able to complete with very limited funding has been extraordinary.  Our new MCC Geospatial Certificate program will provide an avenue for GIS Scholars (as well as other local high school students) a path into an affordable geospatial education and eventually, the growing geospatial industry –particularly for high school age students in the greater Rochester area.  
Dr. Idonia Owens, Principal, Schools Without Walls in Rochester,  contributes "GIS Scholars provide our students with the opportunity to map  current trends in their neighborhoods and the greater Rochester area providing their findings to the Rochester Board of Education and at various venues throughout the city.  Students approach each project with excitement and enthusiasm, and have learned skills that enable them to see and speak about their city through different lenses."
Scott Morehouse, ESRI adds:  "I believe what is going on with GIS scholars is very interesting and important at a number of different levels.  Using technology and online capabilities to let people help government and to let government effectively help people is an idea that is worth exploring.  Young people and projects like the GIS Scholars program can accomplish this and be real contributors to our future".
Similar to other community-based mapping initiatives in New York State, programs such as the GIS Scholars can often work efficiently and cost-effectively on local community mapping projects which are often problematic when government sponsored or initiated. GIS professionals across the Empire State might take a few minutes to look at the Rochester GIS Scholars model and how it can be applied in their own communities.
Communication, letters of support, donations, and inquiries for the GIS Scholars program, contact Joseph Becker at  becker126@yahoo.com or the Scholars at gis-scholars@gis-scholars.org.